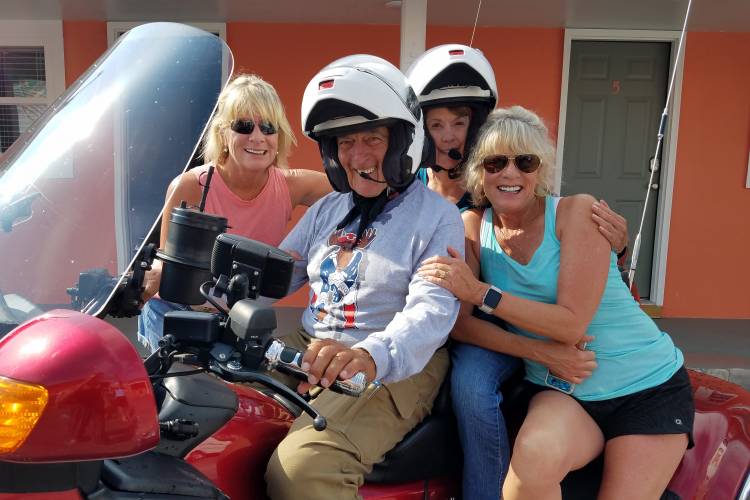 They came into town hot on a flashy red motorcycle—really hot. The heat index on the Outer Banks was over one hundred degrees in mid-June when the pair rolled into the parking lot of the See Sea Hotel in Kill Devil Hills. But it's nothing that the bike's driver, Major Joel Spivack, can't handle.
Standing tall and trim at age 82, with shining blue eyes peering out from a tanned face, Spivack is a decorated combat veteran who served as a helicopter pilot in the U.S. Army. Needless to say, he's no stranger to the elements or adventure. He is traveling with his partner Carol Joyner, who is a pilot and flight instructor herself, and lucky for them they have comfortable accommodations waiting for them at the completely renovated hotel.
Their stay on the Outer Banks is a short pit stop on their cross country motorcycle tour, which will take them from New England, down to Florida, then across to California. It is also an opportunity to visit the sort of friends who have become more like family.
A pair of identical twin sisters, with beach blonde hair and warm smiles, greet the couple as they arrive at the See Sea. The sisters are Outer Banks locals Sue Lewane Goodrich and Tori Lewane Peters. Their father was Colonel Leonard "Lee" Lewane, Commander of the Quarter Horse squadron of the Army's 1st Infantry Division, famously known as the "Big Red One." Spivack and Lewane were comrades in arms all those decades ago, all those oceans away, but they maintained contact over the years, forming unbreakable bonds.
 "Joel is now like a father to us since we lost our father last June," says Sue, accompanied by her husband, Eddie Goodrich.
"My dad always said he was the best damn helicopter pilot in the U.S. Army," adds Tori.
"Your dad always was a good judge of character and talent," responds Joel, with a wink. He doesn't miss a beat.
The octogenarian recalls piloting his OH-13 Sioux helicopter, with a glassed-in cockpit like a goldfish bowl, under the command of Col. Lewane in Vietnam. It was used to communicate with the troops on the ground and coordinate tactical airstrikes.
"There were safer, better equipped helicopters," he muses. "But Colonel Lewane wanted to be able to see his men on the ground."
He was twice directed to land the helicopter in active combat zones so that Lewane could check on his men and let them know that they were together in the fight. As a result of their bravery and success during these battles, their squadron was awarded the U.S. Presidential Unit Citation in July of 1967.
When asked if it all seems like a different lifetime now, the veteran simply says "my body got older, my mind didn't. Remember that."
He sits comfortably at a dinette set inside the cool hotel room, freshly remodeled in a classic coastal style. A bed with crisp white sheets, a tidy kitchenette, planked ceiling, and a soft blue and gray color palette complete the look.
"You don't need a walk-in closet when you stay at the beach," he remarks. "You need a bed, a hot shower…and this little kitchen is perfect. We're very comfortable."
The interior was designed by Exotic Home and the property is under new management by Village Realty. But the rooms themselves weren't the only things that needed a makeover at the See Sea. The hotel had gained a less than sparkling reputation as the opiate epidemic spread on the Outer Banks, as it has nationwide.
The sisters could think of no one better to be the hotel's first guest since its rebirth than their father's heroic helicopter pilot.
"By having a man of honor stay as the first guest, I think it will really help to rebrand the property," says Sue. "We have around 5,000 veterans that live on the Outer Banks and many more in the surrounding area. We want them to come and stay, we want families to stay and enjoy."
The next day after Joel and Carol check out of the room, they put on their helmets, lithely straddle their Honda and roll south out of town. Sue and Tori hold back tears as they stand on the side of Highway 12 waving goodbye after their father's comrade in arms. In the spirit of new beginnings and moving forward, they recall him quoting baseball Hall of Famer, Satchel Paige, earlier in the day:
"Don't look back. Something might be gaining on you."
Submitted by Hannah West